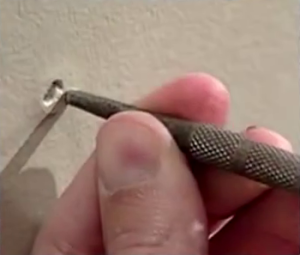 Ah! You've finally moved into your new home. Congratulations! Those new walls and ceilings await you like a blank canvas. Artwork, photos, lighting, maybe a different paint colour after all… The opportunities to personalize your new space and make it perfect seem limitless. But wait! What's that? That spot on the wall? A crack? A hole? Damage? Where did that come from? And what does it mean? Is it bad? Is something nasty going on behind my brand new wall?
Like an unwanted pimple before a big night out, you realize 'perfect' has a new look. Welcome to the world of the "nail pop".
The first thing to know is that you are not alone. In the world of construction, 'nail pops' are common. As common as…well, a nail. What causes them? Typically they are caused by shrinkage of building materials. For example, the wood frame wall that your drywall is nailed or screwed to will always react to the surrounding humidity levels – especially in a newly constructed home. That means the wall expands and contracts depending on the amount of moisture in the air. With enough movement, a nail (or screw) may 'pop' and leave a blemish on the finished drywall.
The next question of course is, are 'nail pops' covered by the new home warranty? For that answer we went to Tina Stewart, one of our fine warranty services representatives. Tina has fielded a lot of questions from homeowners over ten years, nail pops among them. The first thing she stresses is that 99.9% of the time, nail pops are nothing to be alarmed about. Almost all of the time they do not signify that there is anything seriously wrong.
In Tina's words: "One or two nail pops on a wall is normal. The house will not collapse. It's just a few blemishes, which can be easily fixed. When the house settles and weather conditions kick in – like the hot and humid days of this past summer or the dry weather that awaits us this winter – your walls will naturally expand and contract and, sometimes, nails will pop".
In these circumstances, 'nail pops' are not covered by the new home warranty. Builders are not required to make repairs to a small number of pops because they are natural and outside the builders' control. However, in those rare circumstances where 'nail pops' reveal a more serious problem, such as defective drywall installation or a shifting wall or foundation, they are covered.
So what can you do if you find a few nail pops?
Tina recommends working with your builder. Most builders usually respond to requests to fix nail pops. Many builders will also prime and repaint the repairs. The essential thing is to have a frank and open conversation with your builder so that you understand what will be repaired, when and how.
What should you do if you find more than a few nail pops?
Tina recalls her first time hearing nail pops were a warranted item: "The master ensuite and upper hall had a nail pop at every foot, at every joist, on every wall in this area. There were at least a thousand pops visible. Now that was quite excessive, and it was result of improper installation". In that case, the builder was required to repair the drywall. If you think you may have excessive nail pops, call your builder, or reach out to Tarion for help.
Lessons learned:
Work with your builder to find out if they will fix nail pops and how exactly they plan to make the repair.
If you notice an excessive amount of nail pops, investigate further with your builder and/or contact us for advice.
Whether you paint the home yourself or the builder does it, keep left over paint on hand – somewhere it will not freeze and labeled for each room – just in case you need to do some touch ups!
---
Original Article from Tarion.com, http://blog.tarion.com/nail-pops-forest/