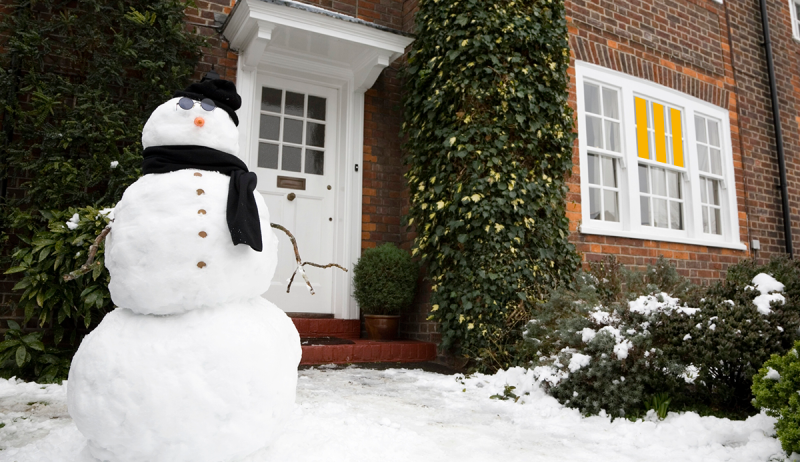 Sadly, it sometimes freezes in the wrong place. As the AAA sign suggests this particular garage was not in Ontario. The picture was taken in Denver. We found it on Google. We want to help you avoid having your frozen garage, basement or kitchen photo show up on Google for a similar reason.
First, remember this simple rule: When the weather drops below zero, water will freeze. Always. Without exception. Next, remember that – without fail – water freezes in Ontario at some point in the year, every year. This may have been happening since the beginning of time. Hard to know. But without question it has been happening as long as we've been living in houses. And – this is equally important – new houses are not immune to this freezing effect.
So how can you make sure your new home doesn't turn into a popular Google image? We checked in with Tina Stewart, one of our excellent warranty services representatives, to ask that very question. She advises that there are two areas of the home that new home owners often neglect at their peril, (i) outside or unheated water pipes and (ii) neglected eaves troughs. The first leads to bursting water pipes – or more precisely, bursting water pipes that spray water everywhere which then slowly freezes and covers everything in ice. The second creates ice dams on the roof that can cause substantial damage to the roof itself.
Prevent a personal ice storm and turn off your external water supply
Taking the time to properly prepare for winter will save you thousands of dollars in water damage to the home and will ensure your home is protected by warranty.
As Tina says: "Always turn off your exterior water supply and let the hose bib drain to let out any water that could stay in there and cause freezing. There are two water supplies that you have to take care of, one in the garage and one outside the house. Be sure to ask your builder where the water shut-off valves are in your home and put a reminder on your calendar to do this before the cold weather hits".
Rake those leaves
With respect to the eaves trough, Tina has this advice: "Where mature trees are near the home, leaves will find a way into the eaves trough. If this debris is not cleaned out, water will not drain properly and cause ice damming."
Since the eaves usually extend past the house, any water there will freeze quickly. As the ice builds up it can creep up the roof where it starts to melt from the heat of the home. The water drips down towards the clogged eaves and freezes again. This cycle over days, week or even months (yes, our winters can be that long!) can create huge ice dams that will lift roofing material and even pulls the eaves off the house.
If you are unsure how to clean your eaves troughs, keep safe and hire a professional to inspect and clean them.
There are other areas of the home that should be looked after as part of your regular fall maintenance, but freezing pipes and ice damming led to a lot of calls into our contact centre last year. So we suggest adding leaf cleanup to the top of your list for things to look after this fall.
Lessons learned:
Start preparing for the long cold winter months early.
When in doubt, hire a professional to inspect your roof.
Take care of water pipes so they don't freeze or burst.
Damage that results from a lack of homeowner maintenance is not covered by the new home warranty.
---
Original Article from Tarion.com, http://mcdonaldhomes.ca/2015/11/11/alert-when-it-gets-cold-water-freezes/